What's new in 1.0.0
February 6th, 2017



No, this is not a typo. We're now in 1.0.0. Yay!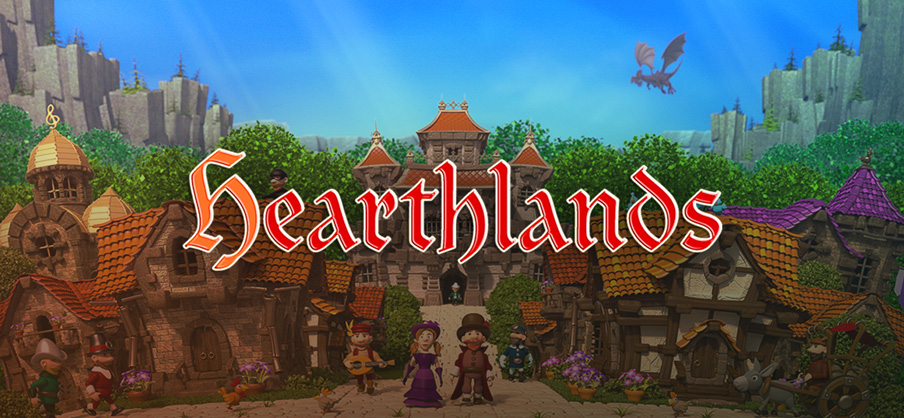 What does it mean?
The development process won't change. There are still some things to do (improvements, suggestions, heroes). It is mostly just a numbers change. We're also are going to start transitioning from Early Access to Released status on Steam.
Why now?
It was about the time. I've said before that the version numbers basically represent the percentage of completeness and now it is the time to call it 100. It doesn't mean we won't go above 100 percent. This is not a revolutionary, but an evolutionary update. As Sid Meier once said "A game is never completed, but sometimes you just have to release it". I may be imagining this quote, since I couldn't actually find it anywhere, so don't quote me on quoting him. Luckily, we now have the ability to continue completing the game even further, even after it's been completed.
Why not a year ago?
I've been postponing the official release, because I didn't (and I still don't) know how it is going to affect the perception of the game and sales. Hopefully, many people who don't buy Early Access games will now take a look at Hearthlands.
This is going to be a very scary time for me, since Hearthlands is the main source of my income and the biggest thing I've done so far. I really want it to do well. There were many ups and downs since the development started in May 2014 and I'd like to thank everybody who gave the game a chance, contributed to the project, provided their feedback, and/or helped to spread the word. You guys made this rollercoaster an enjoyable ride.
It will always be subjective, but I think the game has quite enough to offer. It is very easy to lose interest to a game when you know everything about it and spent countless hours playing, testing and developing it, but Hearthlands still manages to make me forget what time it is. In preparation to this update, I decided to build a 20K population city, which took three days staying up almost until morning. And I was playing with passive rivals and infinite money. There are things to improve (and I'll keep improving things), but I'm happy with the way the game turned out.
Also, we ended up doing more than was initially planned, which is good, because if I knew how much there was to do (and still is), it could have scared me away, and Hearthlands would have stayed as another idea I never went for.
Also
Hearthlands is now available on GOG.com! This is basically a dream come true for me, since the game I've always wanted to play/make is now available to everybody on Steam, Humble and GOG. GOG also requested that the game was officially released and I took this as a sign.
So, what's new?
Trade is now automated by default. In order to start trading you need to build a marketplace and enable a trade route in the trade menu. Marketplaces will automatically accept items you want to sell and merchant will drop off items you want to buy in any of your marketplaces. To enable manual control you can click the marketplace and uncheck "Auto" checkbox.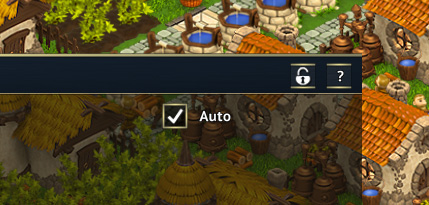 You can now specify trade limits in the trade menu. "Sell when over" setting means that you will only sell items when you have over the specified amount in stock. "Buy up to" means that you will only buy items until you have the specified amount in stock. Currently each trade route has a separate limit, which is something to improve later (?).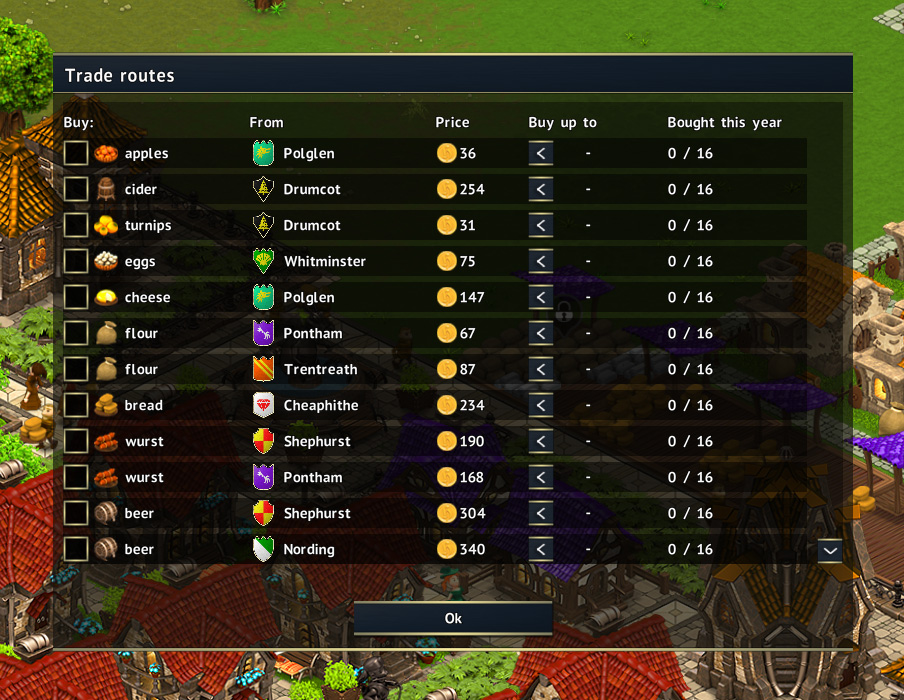 Employment menu now shows the total number of buildings you have when you mouse over the industry.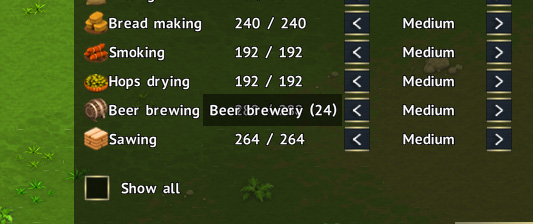 Picking colors for your shield is now easier.
You can now restart the game from the game menu (works with games started in 1.0.0 and after).
Fancy road under a roadblock is now rendered properly.
Clerics have been nerfed a bit.
War pig riders now have regeneration.
Resource distribution algorithm has been improved once more.
Stuttering issues introduced in the last update have been (hopefully) fixed. There are ideas have to improve things further in the next update.
All trees (not just pines) now provide twice as many logs, so you only need half as many woodcutter's lodges. Wood consumption was indeed ridiculous; it is fixed now.
A new song has been added! I would like to thank Seth Cruse for this beautiful contribution. It is almost as good as what we wrote (it is better). Also there could have been bugs in sound engine, which are now fixed.
Savegames from earlier versions are compatible with 1.0.0.
If the game doesn't work
The game (regardless of version) may not work for you if you have an Nvidia GPU and use 378.49 driver. You can see your driver version if you go to Nvidia Control Panel > Help > System Info. Minecraft is also affected by this, which is probably why Nvidia did a good thing and released a hotfix. You can download the fix and learn more about the issue here:
http://www.pcworld.com/article/3164453/hardware/nvidia-releases-hot-fix-after-game-ready-driver-breaks-minecraft.html
To fix the stuttering issue I've decided to build a 20K population city, and it is monstrous. Here are some screenshots: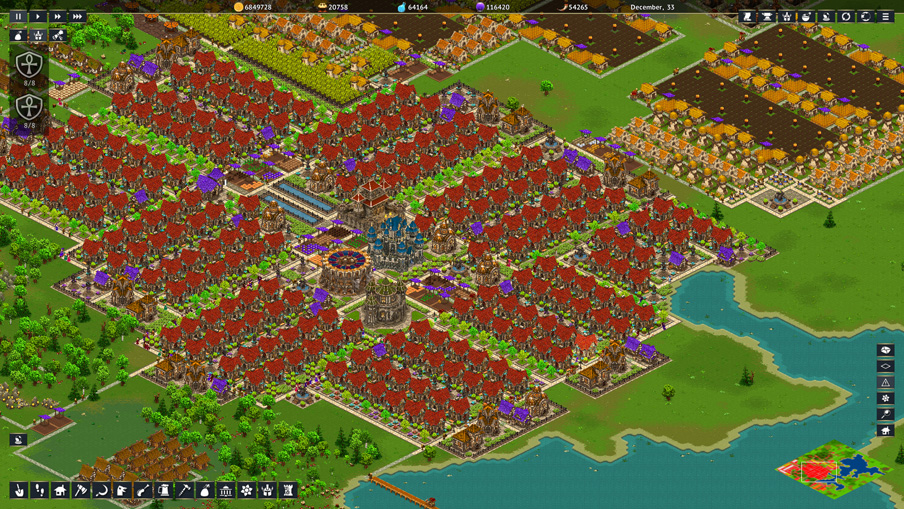 (Click to enlarge)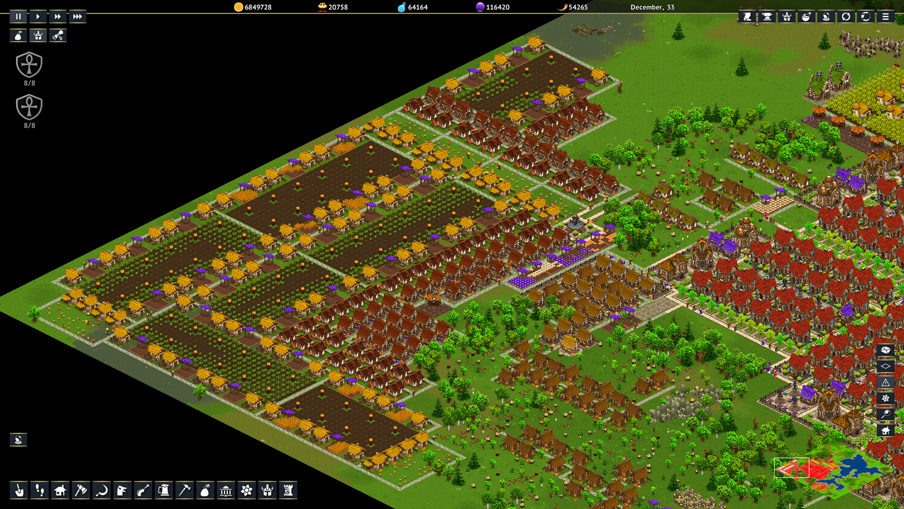 (Click to enlarge)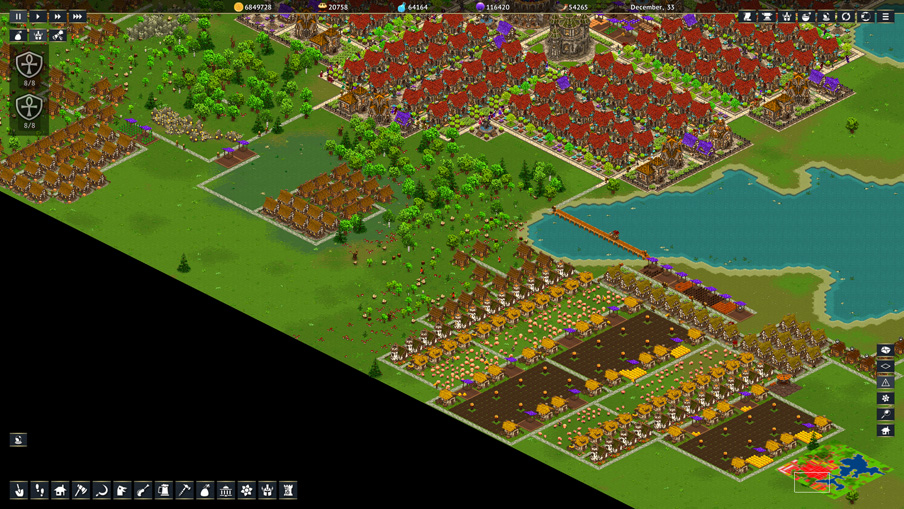 (Click to enlarge)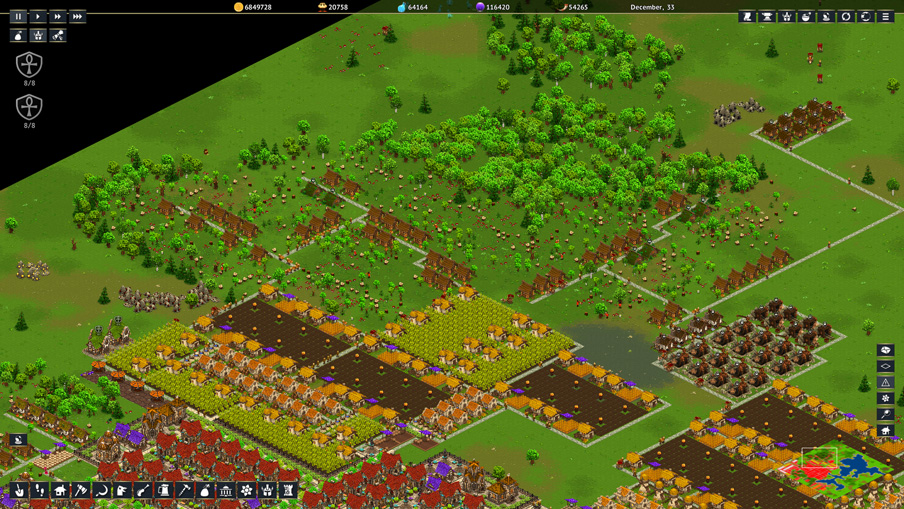 (Click to enlarge)
As you can see, there are several districts: pillow/clothes/eggs district, medicine district, two furniture districts, bread district, boots and wurst district, beer district and the main district. I decided to go with a district system to optimize the resource-flow.
The idea is: let's say you have furniture production district. It has woodcutter's lodges (half as many!), sawmills and carpenter's shops. It inputs nothing and outputs furniture. The district is connected to the main city only though a storage yard, that accepts only furniture. The storage yard is used as a gateway to prevent peddlers from going into the district to get some furniture.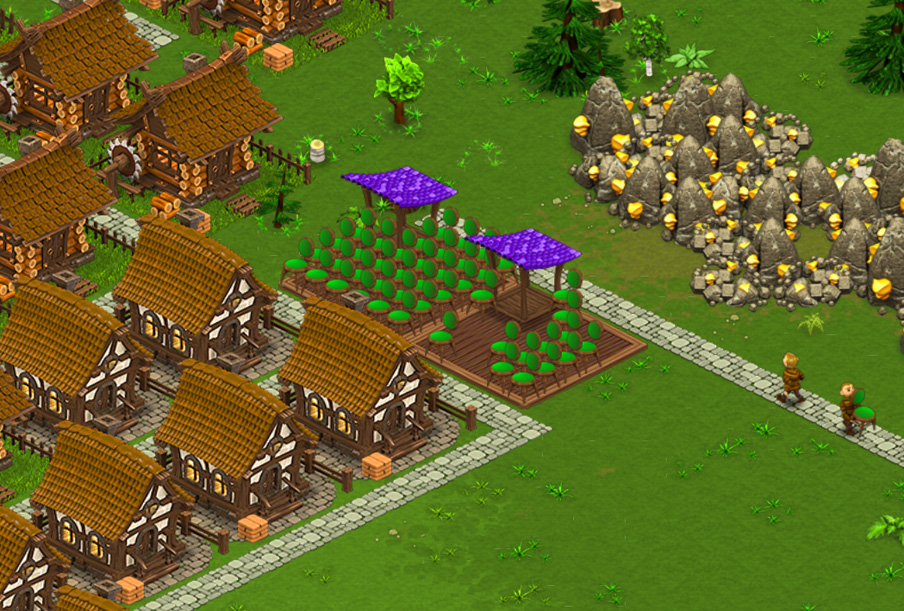 Instead, there is a storage yard (several of them, just in case) in the middle of the city and it "gets" the furniture. There's almost always some furniture in there, so the peddlers don't have to travel too far to get some.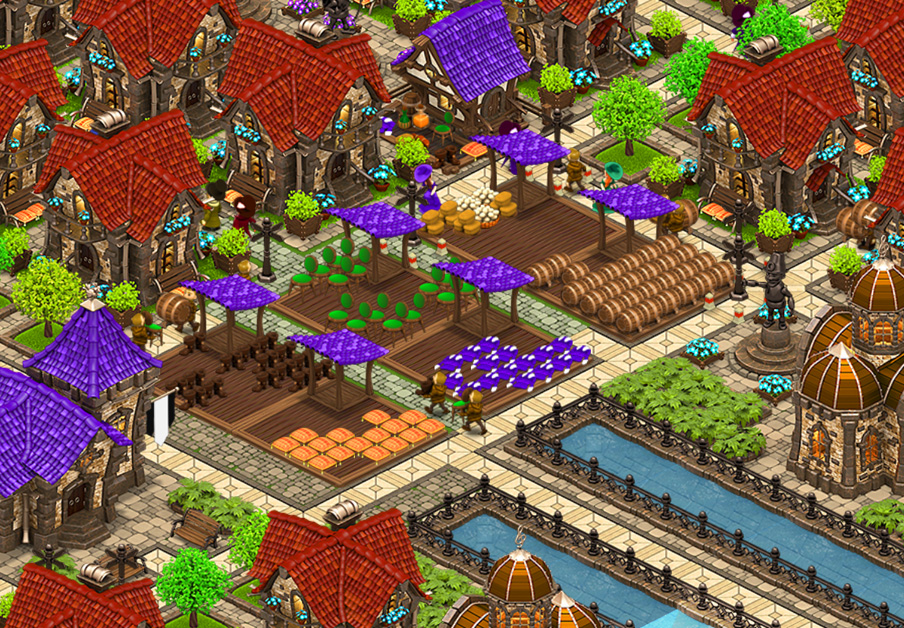 If peddler's tent had direct access to the carpenter's shops, it would send a guy every time a new load of furniture is produced, and the guy would have to travel all that distance to pick up just one load of furniture. Instead, peddlers go to a nearby storage yard, where they can pick up four loads at once.
This, I believe, is an efficient way to micromanage the resource flow in big cities.
TL;DR
1. This is an improvements update, it's not the last one, but it marks the end of the Early Access stage.
2. The game is now available on GOG.com!
3. There's an issue with Nvidia driver 378.49, preventing the game from running. Download the fix here: http://www.pcworld.com/article/3164453/hardware/nvidia-releases-hot-fix-after-game-ready-driver-breaks-minecraft.html
4. Look how big my city is.
Contact us at info@hearthlands.com.
Follow us on Twitter.
Like Hearthlands on Facebook.
Subscribe to our YouTube channel.
Become our watcher on Indie DB.
Get the game on Steam, Humble of GOG.
Stay tuned and see you soon!
---
4 comments on "What's new in 1.0.0"



lama on February 6th, 2017 at 23:51 said:


Good luck!I'd recommend creating a roadmap with some big things that players may be interested in / awaiting / expecting. Like:- new game modes- map editor- scenarios, campaigns- alternative theme(s) (something less candy ;-) )- modding / workshop- multiplayerLet people vote for favorites, find a central place for community etc.
lama on February 7th, 2017 at 00:02 said:


Sorry for wired text formatting. One more thing: rotating the game view!
Peddler on February 7th, 2017 at 19:02 said:


Hey, congrats on the release!Have you considered putting Hearthlands into the reclaim program by GOG? I would definitely take advantage of that.
Tdo on February 11th, 2017 at 05:00 said:


Hi, i think your game is very good. I like to build my city. However, every time i have tried to do it, it is been destroyed by some monsters. I don't have time to build an army or some defenses. You should add some options to change the number of the monsters spot on the map.